CARBTROL has utilized its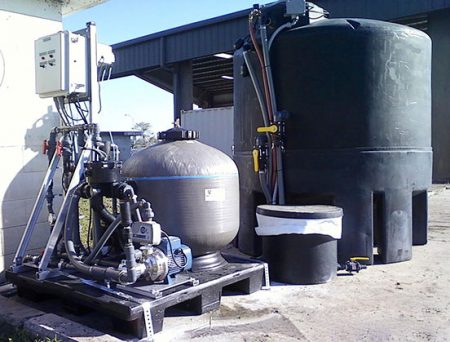 30+ years of experience in the treatment and remediation of contaminated groundwater and hazardous waste sites to develop a state-of-the-art treatment and recycle system. Users at highway maintenance and municipal public works garage vehicle washing operations meet and exceed their environmental water conservation goals.
Features:
Activated Carbon technology
Handles large or small volumes of water
Washes with single or multiple bays
Automatic operation – no operator required
Benefits:
Reliable operations – water is always available for washing
Prevents the discharge of oils, dirt, grime, trace fuels and other contaminants to sewers
Removes nuisance odors
Low maintenance – operates for extended periods of time without need for maintenance
High Capacity Treatment System
The CARBTROL system can provide 10-150 GPM of recycled wash water on a continuous basis. Many competitive treatment systems are limited to a flow capacity of 10 gallons per minute (GPM) and 1,000 to 2,000 gallons per day (GPD). The CARBTROL system has no difficulty in handling wash water from a heavy equipment washday. If a hose is left on or rainwater enters the washing area, the system handles these fluctuations easily.
US EPA-Recommended Technology
The US EPA has published a listing of recommended treatment technologies for removing oil and grease, hydrocarbons and soluble organics from waste water, which include activated carbon adsorption, chemical precipitation and oxidation. CARBTROL incorporates all of these technologies utilizing ultra high capacity granular activated carbons, which are designed to support locations requiring zero discharge of pollutants.
Resistant to Upset Conditions
CARBTROL's Wash Water Recycle System handles changes in waste characteristics and flows, such as variations in temperature and pH, and temporary system shutdowns. Other treatment technologies may be subject to process upsets under these conditions, or may experience foaming problems from soaps, and detergents. These do not affect CARBTROL's system.
Very Low Maintenance
Carbtrol's Wash Water Recycle System operates for extended periods without requiring any operator attention. The system is designed to allow easy inspection and repairs, if necessary. Typically, maintenance only requires one or two hours per week.
Read about CARBTROL's Wash Water Recycle Systems installed and planned at multiple locations along the NJ Turnpike: